So it was spring and it's around this time when people head to the parks in search of the pink and white blossoms. There a number of locations in London where you can see these blossoms, and the ones I am aware of are Greenwich Park and Battersea park (the latter being where this shoot took place). I've heard that this particular location was popular for pre-wedding shoots for couples, but the window of opportunity to photograph these cherry blossoms is usually short and this made the shoot extra special to me as I've missed so many opportunities in the past.
Their wedding was featured on Love My Dress
View their wedding here.
~Nicholas Lau Photography~
Locations: Battersea Park, Westminster & South Bank | Icon: Watercolour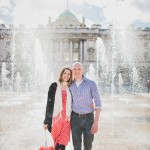 A & C Prev post
Muted Blue Next post