This was an engagement session that took place around the area of Bank in London. It is an old fashioned area that is always very busy during the weekdays with white collar workers commuting to their offices. However, during the weekend it is generally empty which makes it an awesome location for a photo shoot. I find that the entire area gives off a very muted stone like tone and colour, which can also be found in other old European cities like Paris or Rome. We stayed in this general area the entire shoot so we didn't need to travel too much, which is something I always recommend.
I think both Amy and Nigel dressed appropriately for this location, and I especially loved Amy's hair here thanks to Jojo at Daisuki make up for a job well done.
The photography here was shot in both digital and film, the film being Kodak Portra 160 and 400 for those who wish to know. So this provided a nice variation in look that I felt suited the old city background very well.
~Nicholas Lau Photography~
Locations: Bank & Cheapside | MUA: Daisuki | Dev/Scan: UK Film Lab | Icon: Watercolour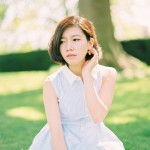 Summer Walk Prev post
K & D Next post